Wedding is one of the most delightful moments of everyone's life and no one wants any kind of blunder on that special day, not even a small one. Behind those wonderful moments lie preparations of months. From booking the venue, caterers, decoration to finalising your wedding clothes and
jewellery; everything is to be taken care of. But one thing which you may forget is to book a Car for your special day. Yes, booking a car for your wedding is as equal as all the other important preparations.
No bride or groom would like to travel in a car which does not match the whole grandeur of the wedding. You need a car which can match with your wedding theme and whole pomp and show. Rent a luxury car with PuneTours to make a style statement for the newlyweds to drive off in their luxury SUV or car..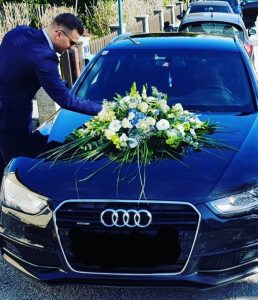 Points to keep in mind while booking a Car :
It will be a big day of your life and the level of excitement with little anxiety would be off the limits. But between this whole exhilaration don't forget to book your wedding car. While hiring a car keep certain points in mind:
Be your wedding theme flashy or subtle; Coordinate your car according to the theme.
Check that the car you hired is wedding dress friendly or not. The car should have enough room for the heavy attire
you and your partner will wear.
If you want your in laws to travel in luxury cars then book the car of same style that will match your car.
Choosing the right car hiring company is very essential as you will not at all want any mistake or delay in the
service.
Book a Car with PuneTours :
To add more grace to the grand event, we have brought a range of luxury and semi-luxury cars for you to enjoy the moment. Want to know why PuneTours is best-suitable for you? Following are the reasons for you to hire luxury cars at PuneTours:
Posh looks from the interior as well as exteriors that will coordinate with your wedding theme well
Fully air-conditioned
Good Maintenance of the cars in order to avoid any service issue
Clean and fresh cars just like the brand new ones
Ample amount of leg space and head room for bride and groom to sit comfortably along with the heavy attire.
A well-knowledgeable and friendly driver who will assist you in your beautiful journey
Moments for Lifetime :
With a lavish wedding, comes great expenses. We understand that in this inflation-stroked economy, everyone faces struggle in managing the budget. You may be in a dilemma to choose between covering your expenses and having a luxurious experience; well these both can be possible with PuneTours where we have an exquisite range of luxury and semi-luxury cars for you to make your event more special.
Don't get confused with the word luxury, it does not mean that you can afford it only if you are extremely rich, we let our customers to have a very lavish experience by providing luxurious cars on a very reasonable rates with no compromise on the service and quality.
Let PuneTours be the part of your special event. As the event is grand, so should be your wedding vehicle. Hire luxury or semi-luxury cars with us for much memorable moments.
Book a Luxury Car for Wedding in Pune or Mumbai